Joseph Saveri Law Firm, LLP partner Christopher Young chaired a "How I Learned to Love Pretrial Filings" panel discussion today at the American Bar Association's 2023 Antitrust Spring Meeting at the Marriott Marquis in Washington, D.C.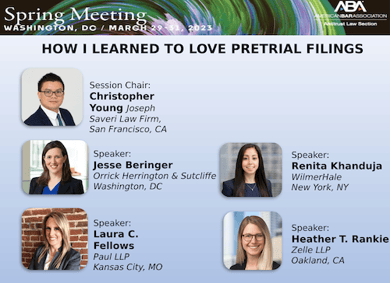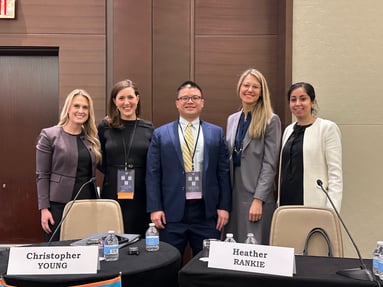 Speakers from left to right: Laura C. Fellows, Jesse Beringer, Christopher Young, Heather T. Rankie, Renita Khanduja.
Chris moderated analysis offered by speakers Jesse Beringer (Orrick Herrington & Sutcliffe), Laura C. Fellows (Paul LLP), Renita Khanduja (Wilmer Hale), and Heather T. Rankie (Zelle LLP).
Many trials are won before jury selection. The evidence presented to the factfinder and how the factfinder will be instructed to consider the evidence can determine outcomes. The panel discussion, presented by the ABA's Civil Practice & Procedure and Trial Practice Committees, provided tips to master the art of pretrial filings: what to do and not to do when drafting complaints, motions in limine, deposition designations, and proposed jury instructions. Successful strategies for preparing pretrial conference statements, exhibits lists, and witness lists were also covered.
The ABA's Spring Meeting is the largest gathering of competition, consumer protection, and data privacy professionals globally, featuring lawyers, academics, economists, enforcers, journalists, and students from around the world. Typically, over 3,400 delegates from more than 65 nations attend. The Meeting provides a valuable opportunity to gather domestic and international perspectives on competition, consumer protection, and data privacy law from talented/esteemed faculty and delegates. The CLE programming is enhanced by non-CLE conversations such as Fireside Chats throughout the conference where antitrust enforcers from around the world hold informative interviews and discussions with former Section Chairs in a close, informal setting. The Meeting also provides fantastic networking opportunities.
Chris was recently promoted to the firm's partnership. His expertise and accomplishments have earned praise and accolades from his colleagues, the courts, the National Law Journal, the American Antitrust Institute, Super Lawyers, and the Recorder. He is currently Vice Chair for the ABA's Antitrust Section's Trial Practice Division and is an important contributor to the Education Committee of the Asian American Bar Association of the Greater Bay Area. He has also propelled the firm's successful pro bono relationship with the Federal Pro Bono project.