Joseph Saveri has been profiled in the 2022 Who's Who Legal Thought Leaders: Competition, a publication of Who's Who Legal, a prestigious United Kingdom-based legal ranking service.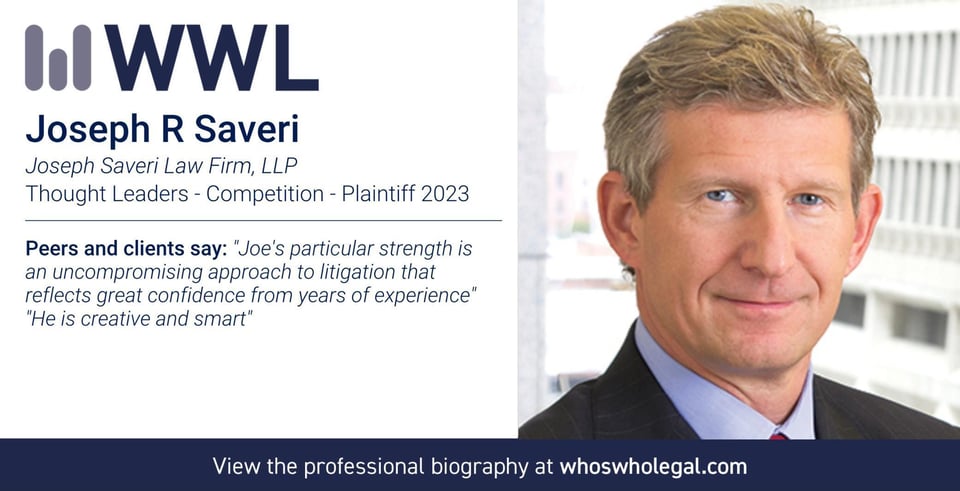 Joe answered questions about the status of the United States and European antitrust/competition law, the latest regulatory developments regarding U.S. Big Tech companies, his firm's 10-year anniversary and recent successful trial prosecution of Capacitors Price-Fixing Antitrust Litigation, the challenges of practicing law during the pandemic, and his goals for the future.
WWL Thought Leaders: Competition brings together the insight, expertise, and wisdom of some of the world's foremost competition lawyers and economists in a single report. It features Q&As with dozens of practitioners with hundreds of years of combined experience in competition between them. The featured individuals obtained the largest nominations from peers, corporate counsel, and other market sources in the most recent research cycle.
Through interviews with the practitioners themselves, Thought Leaders: Competition aims to highlight what puts these practitioners at the apogee of competition law. They are worthy of special mention owing not only to their vast expertise and experience advising on some of the world's most significant and cutting-edge legal matters but also their ability to innovate, inspire, and go above and beyond to deliver for their clients.
Joe and firm partner Steven Williams have been previously selected as two of the top plaintiff attorneys worldwide in Who's Who Legal: Competition, a publication of Who's Who Legal and Global Competition Review. Joe received this honor in 2015-present, as did Steve in 2014-present. Also, since 2021, Steve has been selected for inclusion by Who's Who Legal in its annual Who's Who Legal: Commercial Litigation publication.
Since 1996 Who's Who Legal's comprehensive, independent research has identified the foremost legal practitioners in multiple areas of business law. In total, Who's Who Legal's site features over 24,000 of the world's leading private practice lawyers and 2,500 consulting experts from over 150 national jurisdictions. It is dedicated to identifying the world's leading lawyers across multiple practice areas and publishes a series of guides throughout the year.
Global Competition Review is one of several news services within Who's Who
Legal's wider company, Law Business Research. Global Competition Review provides a subscription-based news and resource service (both online and print), and hosts live events throughout the year.